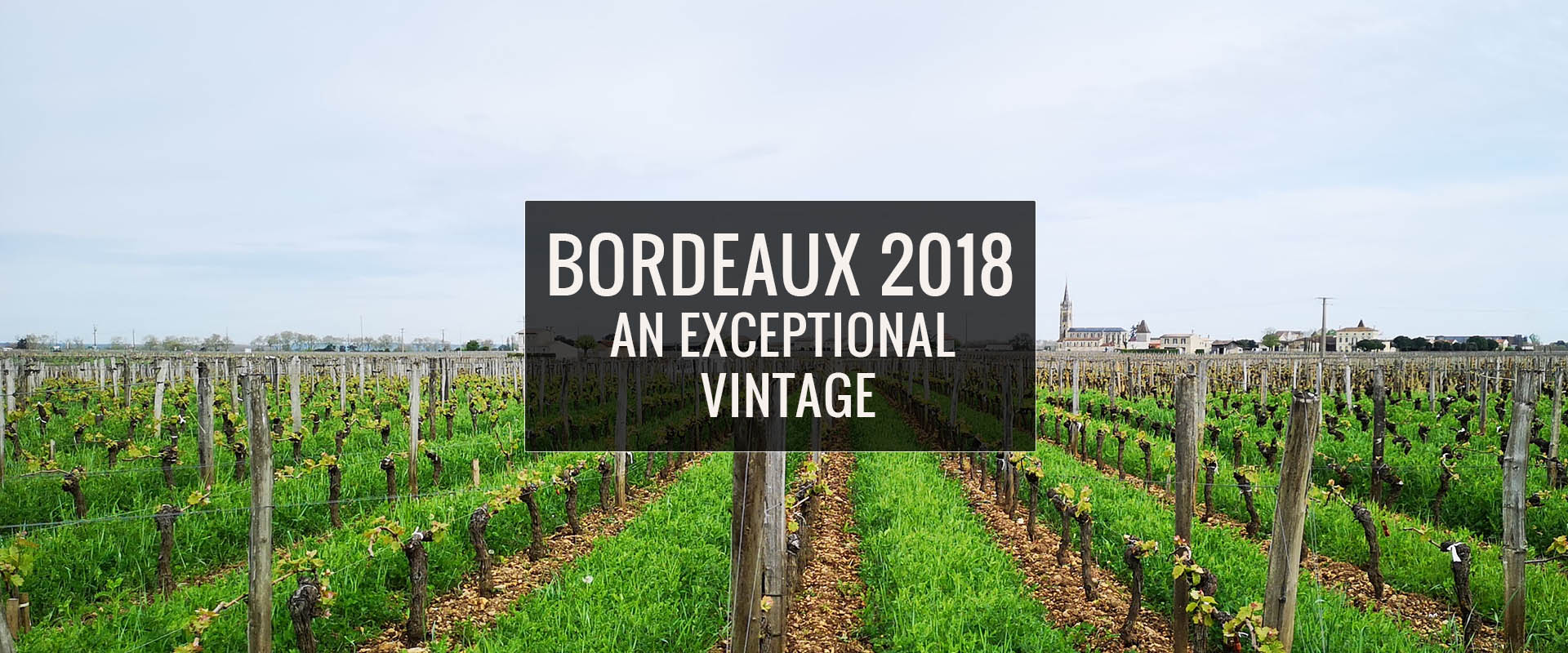 After two weeks in Bordeaux tasting more than 1,100 wines from the 2018 vintage, visiting 67 chateaux and talking to hundreds of vintners and winemakers, I can tell you that 2018 is an exceptional year for Bordeaux wines.
It is a unique vintage for Bordeaux not only because of its hellish grape growing season but because it created wonderful wines with a beautiful depth of ripe fruit and polished, strong tannins. These wines have an impressive underlying freshness despite one of the warmest and driest late summers and harvests on record.
"It was an enfant terrible," admits Saskia de Rothschild, CEO of Domaines Barons de Rothschild (Lafite) or DBR (Lafite) whose famous first growth made one of the wines of the vintage. "It was a difficult vintage for us in the vineyards with all the rain at the beginning, the hail (at Rieussec) and the mildew but then it changed and we had hot and sunny weather. It lasted through the harvest so we could pick when we wanted. This ending enabled us to make great quality wines."
I have to wonder if this extreme weather pattern is the new norm for Bordeaux. Is 2018 a new benchmark for the region?
2018 Bordeaux: A confusing vintage
The strange weather during the grape growing season certainly left many who tasted wines from barrel this year scratching their heads – wine producers included. I have never heard such confusion about a vintage in my 36 years tasting from barrel and reporting on vintages in Bordeaux. This is particularly true from people who tasted a limited number of wines over a few days and went away with their conclusions. This is a vintage that takes some time to understand.
Most people agree that it is a great year and can be compared in quality to recent excellent years such as 2016 and 2015. I think it could turn out to be an all-time great, similar to 2010, 2009 and 1989 or even such classics as 1982 or 1959.
"This is one of the great years," says Pierre Lawton of Alias, who is a longtime friend and a wine merchant in Bordeaux whose family has chronicled vintages in the region for more than three centuries. "We have not seen a vintage like this for a long time. It has the character of the 1959 but with a touch of the 1947."
The confusion around the 2018 bears out in the number of comparison vintages people mentioned. I have never heard such an array of vintages used to describe the 2018 while talking to vintners and winemakers. These included 2016, 2015, 2010, 2009, 2000, 1990, 1989, 1982, 1970, 1961, 1959, 1947, 1945, 1934, 1929, and 1928. What's interesting is that I would agree with nearly all. It depends on the property – all the vintages made excellent wines. The fact is that 2018 made excellent quality wines across the board from the simplest Bordeaux to the great names. This is a sign of an exceptional year.
2018 Bordeaux hit by weather but scores well
I ran a spreadsheet comparing wines I rated 90 points or more and the 2018 came out ahead of 2016 and 2015. After rating 1,100, 1,300 and 1,200 wines from these vintages respectively, about 80 percent of the 2018s I rated over the last two weeks scored 90 points or more (90-91 plus) while 69 percent of the 2016s scored the same and 70 percent of the 2015s.
I didn't expect this result – a number of people had said that the 2018 was heterogeneous in quality. However, I believe people are confusing the diversity in character and style of the 2018s with quality.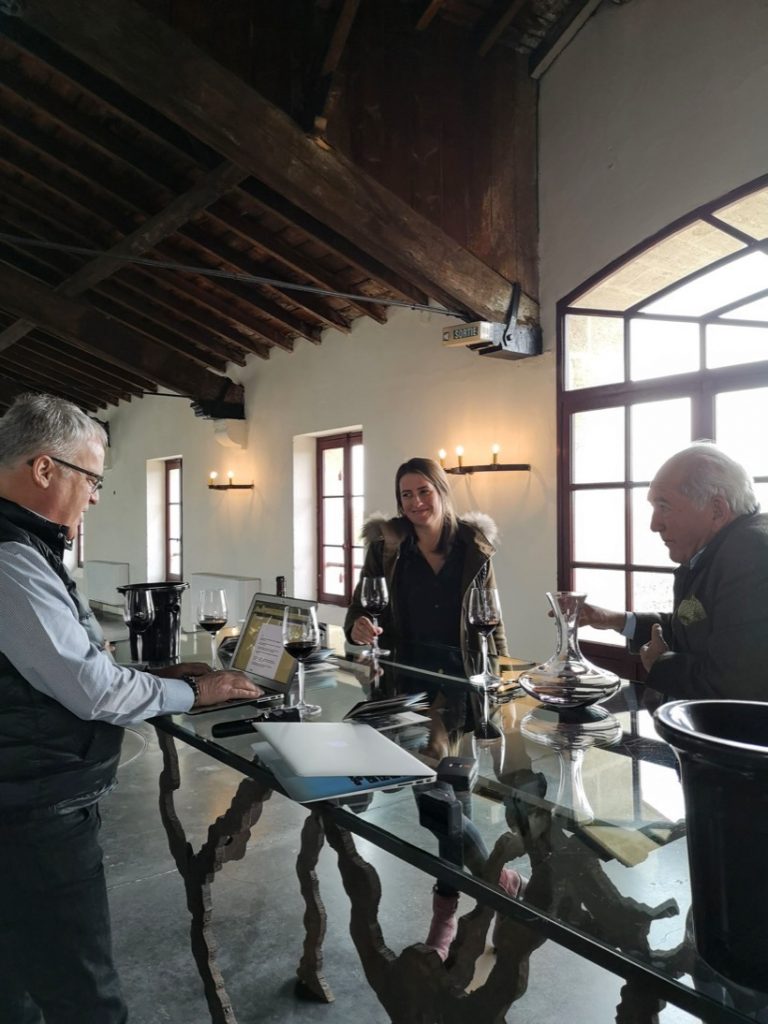 A unique tasting table at Château Pontet-Canet.
"People had to make choices," says Gonzague Lurton of Château Durfort-Vivens, who lost a large part of their crop to mildew but made a sensational wine. "They had to make really distinct styles. Were people looking for balance or were they looking for concentration?"
Although the poor and wet weather for the first half of 2018 significantly shaped the vintage, not to mention the terrible attack of mildew, the determining factor was the hot and sunny weather from mid-July until the end of the harvest in October. "We could pick just about any time we wanted," said Alexandre Thienpont, winemaker at Vieux Château Certan as well as Le Pin. "So you had to make a good decision when to pick."
Those who picked late have more tannic and richer wines, while earlier harvesters made fresher and slightly lighter wines.
In addition, great differences existed in winemaking methods with some people looking for much less extracted wines and others going for more traditional methods. Some wineries were even using more Burgundian methods such as whole berry fermentations with stems and lightly infused macerations. Just about everyone seemed to use much lower temperatures during the fermentations and macerations.
New enologists show their value
In addition to all this, you have a number of new consulting enologists making their marks in Bordeaux such as Thomas Duclos, who emphasizes balanced and fresh wines, and a new generation taking the helms of numerous famous chateaux from their parents like Saskia de Rothschild of Lafite and others.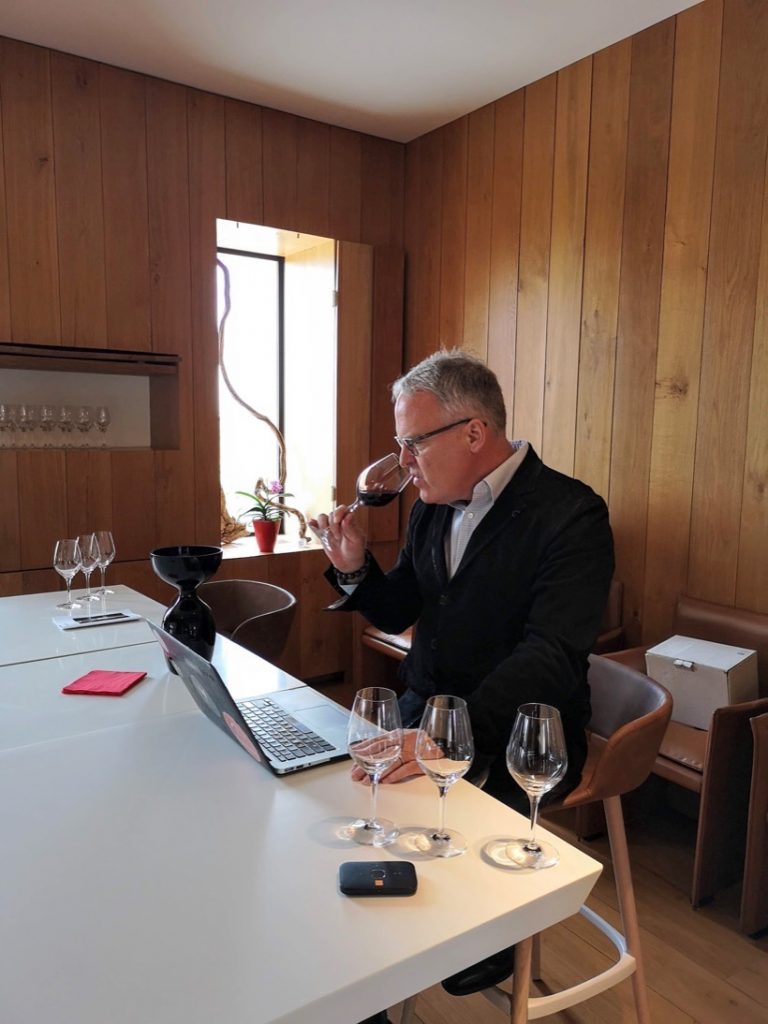 Doing the thing at Château Petit-Village.
"We want to try new things and make improvements on our own terms," says Stéphanie de Boüard-Rivoal, the young and dynamic managing director of Château Angélus whose father, Hubert, remains a force as a consulting winemaker but left the reins of his famous St.-Emilion estate to his daughter. Case in point: I tasted part of her 2018 from large oak casks (foudre in French) instead of traditional 225-liter barrels.
Regardless of how they were made, the majority of the 2018 reds in my tastings were beautifully structured with ripe fruit and potent tannins, yet there is an impressive drinkability to them, which is a great sign of quality.
I remember the first vintage I tasted from barrel as a young wine critic in Bordeaux – the legendary 1982 – and the wines were so good to taste from barrel that I drank some for lunch with the likes of Alexis Lichine, Hughes Lawton, Daniel Lawton, and Anthony Barton. In fact, I drank some 2018 L'Évangile with lunch last week!
"Years ago everyone was looking for powerful and extracted wines but now people are looking for more elegance and perfume," says Jean-Claude Berrouet, the legendary winemaker of some of the best wineries on the Right Bank including Pétrus. His son now makes the wine at the famous Pomerol and his 2018 is a perfect 100-point wine.
Dry whites are very good quality although picking times were crucial here to assure freshness. Picking early made more vibrant wines. Sweet wines had more of a problem in 2018 due to the slow development of botrytis. I tasted about two dozen Sauternes and many showed very low amounts of noble rot.
"This vintage was so perfect for red wine in the end but it was handicapped for the Sauternes," points out Eric Kohler, the winemaker at Château Rieussec in Sauternes as well as other DBR (Lafite) properties. "The botrytis did not arrive until October 5. The window for the Sauternes was very short but it will be a very nice vintage and not that far from the 2016."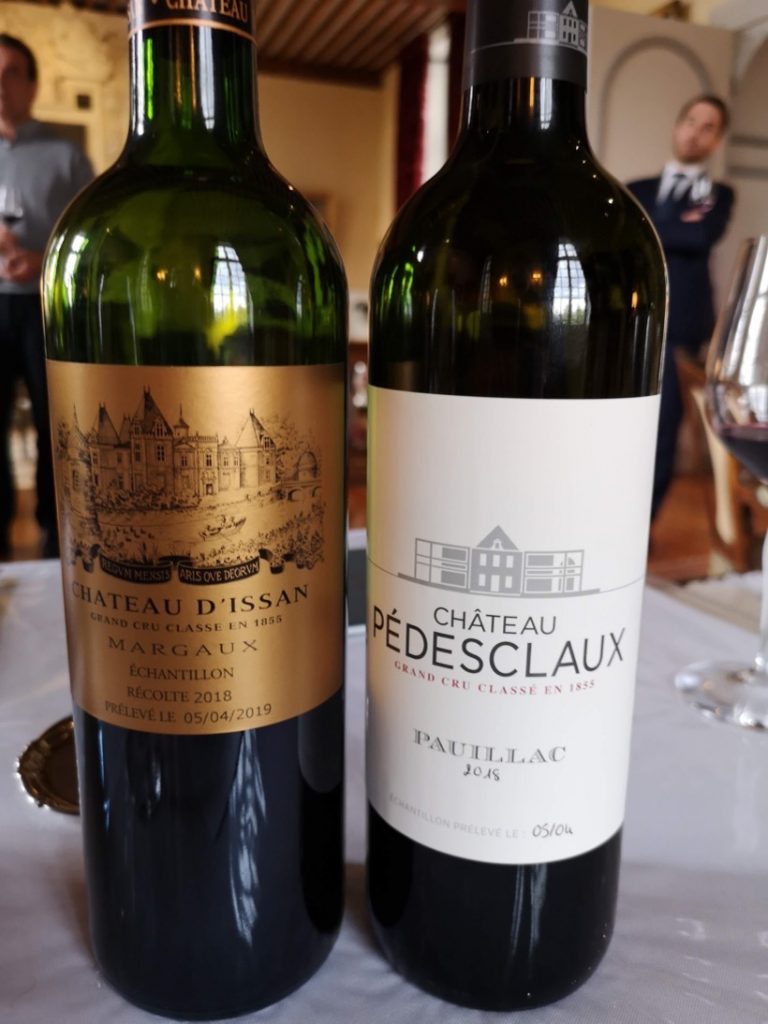 An awesome Château d'Issan Margaux and Château Pédesclaux - Pauillac.
2018 Bordeaux perfect wines
I already gave perfect, 100-point scores to three wines: Lafleur, Pétrus and Mouton-Rothschild. These are breathtaking wines that shows an incredible depth of fruit and complexity as well as great structure and richness. There could be 10 other wines rated 100 points after bottling.
I really didn't expect the 2018 to turn out to be such an exceptional year but the wines it produced are beautiful. And apparently, most of the winemakers knew they had an excellent quality vintage by the end of the summer. "The wines are like flying carpets in 2018," says Baptiste Guinaudeau, winemaker at Pomerol's Château Lafleur, who says the wines are powerful and structured yet remain agile. "Unlike the 2016s which are also excellent but we were not sure about the quality at first, we knew that we had a great vintage by August with 2018."
It was less obvious, however, for some wine estates who followed organic and biodynamic viticultural methods. Most were ravaged by the mildew, particularly in July. Some lost as much as 80 percent of their crop. "We haven't seen mildew pressure like this in decades," admits Thomas Duroux, winemaker of Château Palmer. They lost most of their crop and only made 11 hectoliters per hectare on average, about a quarter of a normal crop. Palmer's vineyards are cultivated biodynamically and they couldn't keep up with the spread of mildew like others such as Pontet-Canet and Durfort-Vivens.
"Some years we cannot make wine, but I believe in what we are doing," says Alfred Tesseron, owner of Pontet-Canet, also biodynamically farmed. He lost two-thirds of the crop. "We are not broke. But it will take us a few years to recover."
Yet most Bordeaux winemakers are elated with the vintage. "We like to say we have the taste of victory in 2018," says Nicolas Audebert, director of Château Canon and Château Rauzan-Ségla. The latter could be the best ever from the second-growth Margaux. "It was a tough year and we really had to fight all the time with nature but we won."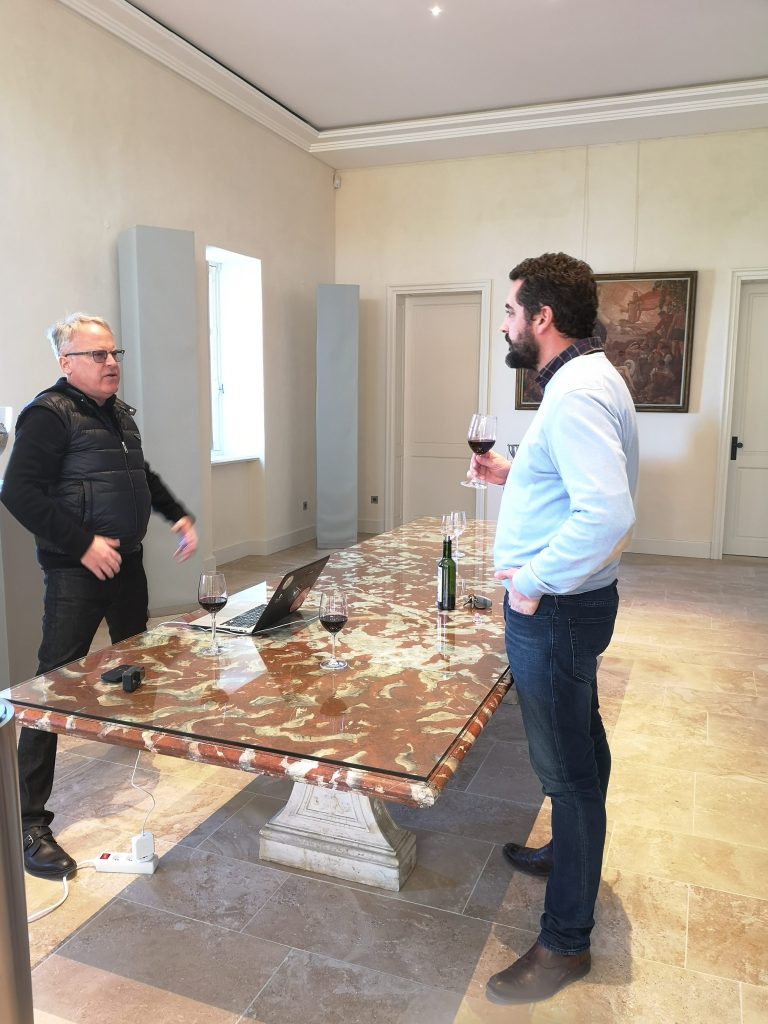 James talks to Olivier Berrouet, the genius winemaker at Château Pétrus.
2018 Bordeaux prices and En Primeur
Whether the 2018 will win the hearts of wine merchants and consumers remains to be seen. Traditionally, prices increase in an exceptional vintage especially following a good (but not great) one such as 2017.
However, the market for Bordeaux is fragile. Last year exports fell by 14 percent to 1.9 million hectoliters, according to press reports. China, Bordeaux's biggest market, dropped an incredible 33 percent to 436,000 hectoliters.
"We have to be reasonable with our prices this year," urges Jean-Luc Thunevin, the energetic winemaker of Château Valandraud who consults for a few dozen wineries as well as trades in fine Bordeaux around the world. He says his sales in China are suffering. "We should give people the incentive to buy great Bordeaux."
Several dynamics were at play in this year's en primeur campaign, when wine merchants around the world may or may not buy Bordeaux's new wines as they lay in barrels in cellars. China doesn't buy en primeur anymore especially considering the changes in business practices in the last year. The rest of Asia is the same with a few exceptions. No one expects the United States to buy much. A big question mark hangs over the United Kingdom with Brexit looming. So traditional markets in Europe, especially Northern Europe, may be interested.
This year's en primeur week in early April was well attended and although I have no official figures, wine producers said they had thousands of people visit to taste their wines. I did see that many of those attending were Asian and also European. And everyone seemed interested, even excited, with Bordeaux's new baby.
Even if Bordeaux doesn't sell a lot of wine as en primeur, the beautiful vintage will sell one day in bottle. And we all are going to enjoy drinking the 2018 Bordeaux. "I am not too worried about the situation," says Philippe Castéja, head of his family wine business Borie-Manoux. "When you have great merchandise in the store, you know it will sell one day!" — James Suckling, CEO & Edito